5 Things That Make Skopelos Unique
Visiting Skopelos has been in our bucket list since 2007. And not because of the famous Mamma Mia movie that was filmed there only one year later, but because this was the year we had our first daughter Regina. If that does not ring any bells to you it is probably because you haven't heard that the protector saint of the island and very highly honored among the locals is a saint of the early church named St. Reginos – also protector saint of our daughter. Every other person on Skopelos is named either Rigas or Regina and the saint has been protecting the island and the locals all those years since his violent decapitation on the main crossroad of the port (a spot that you can see honored until now) by the Roman Emperor Julian the Apostate in 362AD. One year later the Emperor died and remained in history as a blood thirsty dictator who only cared to be worshiped like a God, while St.Reginos has conquered death and continues to be part of the island's story through his healing grace and presence that has been witnessed many a times by the locals.
Despite how much we wanted to go, something always got in the middle. We even almost booked twice but still without success. Life does have it's own rhythm of orchestrating things. So when this spring Spyrou Philoxenia had the kindness to host us on the island we were thrilled! Time had passed and we had seen the amazing in photography (apart from all the rest) movie, read the articles about Skopelos being the perfect Greek island, witnessed an enormous rise in the amount of pictures & posts in Pinterest that offered info on the island and all these things only made our desire bigger.
Now the time had finally come. Oh the joy! We had planned really big! This island does offer some exceptionally unique characteristics and we were about to savor them.
1. White & Blue …but green as well. Everyone that loves the Greek islands knows how to hush the well kept secret: unbearable heat. No trees, no shade just the burning sun on those well reflecting [yes, super cute admittedly] white outdoor surfaces of the homes. Skopelos does not fall into that category though. It is covered in green woodland and pines that come down to the sea to offer shade and fresh air from photosynthesis and not the sea breeze -trust me it does make a difference.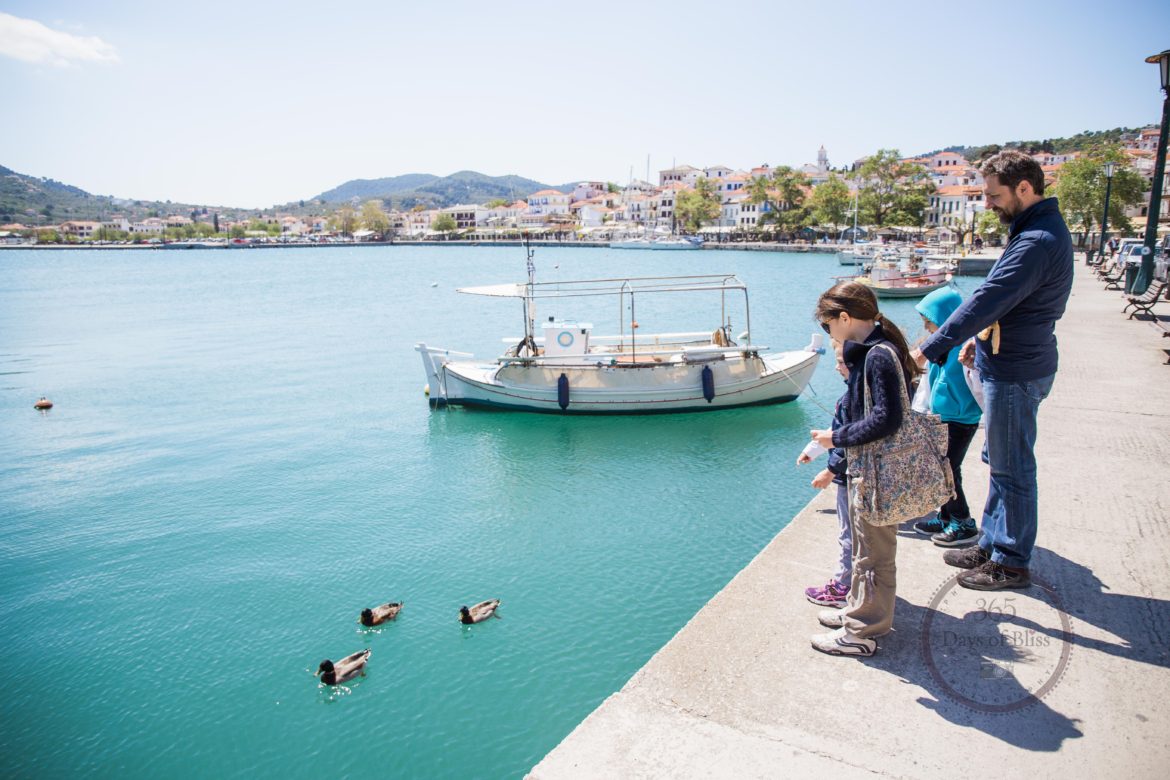 2. Dolphins & Monk seals! Yes you read well. Aegean sea is home to bottle-nose dolphins but only just outside Skopelos (near Alonissos) is the National Marine Center – one of the bigger ones in Europe – where you can actually see and some times interact with them. There is a glass bottom boat that you can take from the port of Skopelos -the "Queen of Sporades"- and have a day cruise with stop for a meal and swimming in beautiful remote beaches. If you want to book your trip in advance you can talk to kind mrs Regina (see the name again? told you!) on this phone +30693 668 6874 or email rkouklatzi@gmail.com
3. Traditional Skopelitikes pites. Yes pites is a thing all over Greece and I must admit that the northern part of Greece has the reigns as to pie-making BUT Skopelitikes pites is really something else. For one it is the kind of pie you would never make alone at home -too much fuss and deep frying required. So why not indulge while in Skopelos? I will shamelessly admit that we had all of them. With cheese, cheese and peppers, chicken and sweet cream filling and I will suggest that you should do the same too! Just for once. We accompanied them with local herbal tea that is very strong and rich in flavor. If you are a tea lover it is a must. We had ours in Michali's little shop in the old town. It was pies and political conversation with random locals and foreigners. Another part of Greece I simply adore! You can talk politics anytime with anyone and bond over listening to the weirdest or most interesting opinions that are totally open for debate. Actually debate is requested here!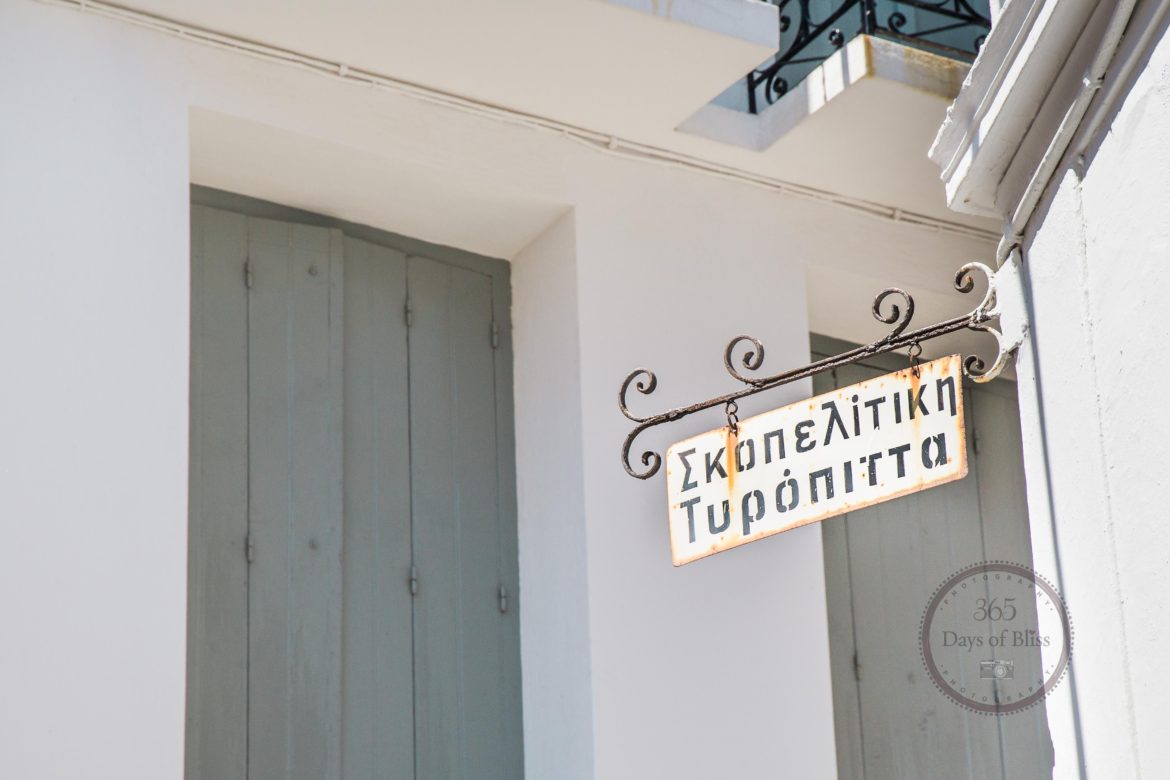 4. Skopelos walks. As I have written in this previous post Skopelos ancient cobblestone trails known as kalderimia are now been revealed. A true adventure to the visitor who has the opportunity to explore new parts of it. The initiative for the tough work of clearing them, as well as the coordination of the volunteers that come to work on the island through the Workaway work-exchange platfrom belongs to Heather Parsons. Her important work on the island's hiking trails has helped to offer a glimpse of what life on the island was like way back then. For the parts of the ancient trails that are ready to explore you can either book your own tour with Heather through her site Skopelos Walk from March through October or you can buy her book guide and explore the trails on your own pace. You can also contact her to learn more about the potential of a free stay on the island with the meals covered in exchange for some hours of work.
5. St. Reginos Monastery. The monastery where is the grave of the protector saint of the island. If you want to pay respects to the relics of the saint keep in mind that they are not to be found in the monastery. You will find them in the church of Christou Gennisi in the old town of the port. If you stay long enough in the latest one, the kind elder father Nickolaos will tell you details from the history of the island that would make any historian jealous. Every 25th of February -the Fest day for the Saint- there is a big litany from the church of Christou Gennisi up to the monasteri, a distance of about 4km. It is a big celebration day for the island.
As for our trip. Oddly the long anticipated visits to the monastery and the Marine Center were canceled due to practical reasons like the boat not yet been ready, or the bus routes not been as frequent at this early season. So it was two full days in Chora (the port) for us that passed so quickly despite their slow rhythm. We even got to spend a whole afternoon savoring the little church of Christou Gennisi and having a good deep conversations with elder father Nickolaos that really felt as if St. Reginos had kept us all to himself and made this trip look like a small soul-fulfilling pilgrimage. We returned home light as feathers.
Before closing this post, I would like to thank dearly Hellenic Seaways for sponsoring our trip and pampering us so much. The captain of our ship mr Ioannis Karadis and the crew -especially mrs Evrimedia Papalouka- have been more than caring to our family and every other family with kids on board. It is such a relief to know that you can travel with kids with peace of mind.
We kindly thank Rigas Hotel of Spyrou Philoxenia for welcoming us as their guests and giving us the freedom to write our personal and unbiased opinion for our audience.
If you are looking for accommodation on the island, you can read our experience in Rigas Hotel.
Spyrou Philoxenia Group of Hotels offers a range of different styles in holiday stay like their luxurious Hotel & Spa, or the Blue Green Bay. All of which you can find in Skopelos Hotels page. Make sure to follow them in the social media and you will be the first to know the updates and discounts they offer. In Facebook Skopelos Hotels and Rigas Hotels Skopelos , Instagram skopeloshotels and rigashotel , Pinterest Rigas Hotel Skopelos – Greece.