Rigas Hotel – Skopelos
So here we are in the last days of Easter holidays. I cannot believe it is over already. It was only yesterday morning that we lazily sipped our coffee in Skopelos and what a bliss these slow days have been. I will be writing soon for that trip, but for now I want to give you a peak at the hotel that hosted us for these past 4 days, Rigas Hotel of Spyrou Philoxenia Group that you might remember from our trip to Pelion. Before describing any of it's beautiful features I want to point out the most remarkable thing of this place. And it is this:
The respect and true care for the local community.
There hasn't been one person on the island to whom i told we were staying in Rigas Hotel and did not have something nice to say about how this business contributes to the well being of the whole community. Rigas Hotel does not only promote it's own work but the tourism in the island on the whole, including other businesses. So refreshing to hear as this is exactly the kind of synergy that is needed right now for tiny Greek communities to survive in these years of financial crisis. Further than that, Rigas Hotel is offering accommodation for free to volunteers who visit the island through Workaway platform to work there. In case you haven't heard of it before Workaway is a work-exchange resource for adults of all ages. Essentially, in exchange for around 5 hours of work each day, Workaway-ers receive free housing and oftentimes meals at various destinations around the globe as long as they can cover the transportation costs. If you want to learn more about it you can read the experience of this fellow travel blogger with Workaway in Skopelos. So in the case of Skopelos island, there has been a huge need for helping hands to open the ancient cobblestone trails that the old Skopelites had once built and were back then the only roads on the island. Nowadays -apart from the unique beauty that these paths offer to the visitor- they make perfect hiking paths for the huge demand of adventure tourism on the islands in general. The initiative for this tough work as well as the coordination of the project belongs to Heather Parsons who organizes Skopelos Walks. Her important work on the island's hiking trails has helped to offer a glimpse of what life on the island was like way back then. During our visit we had the chance to meet some of the volunteers with Heather and talk to them (more on that soon).

The 3 star hotel itself is built with a unique architecture that resembles a lot to a typical Spanish hacienda. Outdoor walls painted in deep red colors, trees full of maturing fruits like an apricot tree just outside our room and a patio in the center of the buildings that includes a beautiful pool. Traditional Greek Breakfast is served near the pool or in an indoor area that overlooks it – another small treat that gives the day a good start. In Rigas Hotel we had the luxury of two connected rooms with enough beds for all 6 of us. Room service was provided every day. The apartment was spacious and comfortable despite the number of beds and also included a small kitchenette and a huge closet for all of our luggage. Despite this precious closet though, I must admit that almost right after check in, our room did look like all luggage exploded in there, so this is why you will not be seeing any pictures from the inside of the rooms here. Not a nice sight to take publicly. The stuff was really helpful and kind at all times and we found it was a bliss that it was situated only 400 meters from the central port where all the cafes, restaurants and the playground was. Overall it has been a most pleasant stay that we highly recommend if you plan on visiting Skopelos this summer.
If you are looking to explore more options of accommodation on the island, Spyrou Philoxenia Group of Hotels offers a range of different styles in holiday stay like their luxurious Hotel & Spa, or the Blue Green Bay. All of which you can find in Skopelos Hotels page. Make sure to follow them in the social media to be the first to know the updates and discounts they offer. In Facebook Skopelos Hotels and Rigas Hotels Skopelos , Instagram skopeloshotels and rigashotel , Pinterest Rigas Hotel Skopelos – Greece.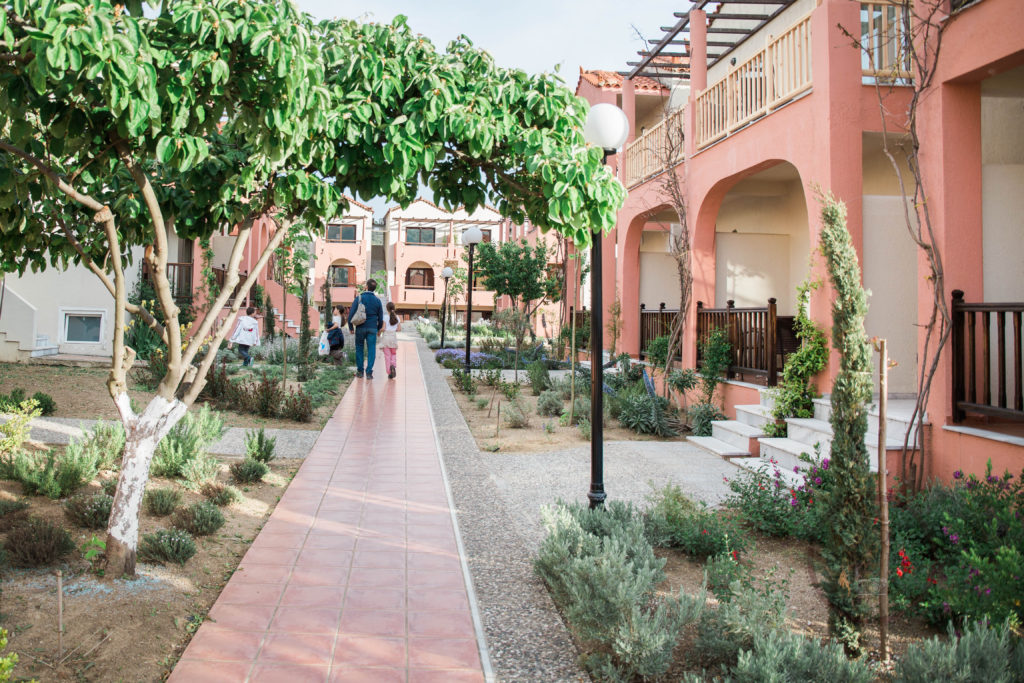 We kindly thank Rigas Hotel of Spyrou Philoxenia for welcoming us as their guests and giving us the freedom to write our personal and unbiased opinion for our audience.